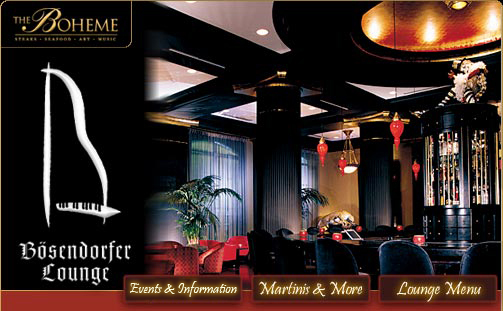 Be stirred, not shaken in the Bösendorfer Lounge, voted the "Best Place to Sip Martinis" by the Orlando Business Journal and voted "Best Hotel Bar" by Orlando Magazine. Designed to be edgy and intriguing, the Bösendorfer Lounge, the namesake of the Imperial Grand Bösendorfer piano (one of only two in the world) features a round bar decorated in black marble, red stones and mirror pieces and mounted with table lamps for soft sensual lighting. Worth the visit alone are the original works of art including the impressive "Daniel in the Lion's Den" and the "Presentation of Salome" by Florida artist William Russell Walker and "Enraptored" by Mexico City artist Susan Contreras. Enjoy a nightly line-up of of Central Florida's finest musicians.

It's Bohemian After Dark where being BAD never felt so good every Friday and Saturday night. From 8:30-11:30 PM, jam with the area's hottest jazz groups in the Klimt Rotunda. Stay late for the best in recorded music with the Phat-N-Jazzy DJ Collective spinning your favorites including classic soul and nu soul. Live entertainment hours are subject to change without notice.

From the custom appetizers to specialty libations, come and enjoy many of the one-of-a-kind experiences only found in the Bösendorfer Lounge. Come be stirred in a Bohemian fashion.

Visit our website often for updates on nightly entertainment and special promotions.






Friday, 10/1/2010

7:00 pm - 10:00 pm
Jazz Night at the Grand Bohemian, featuring
Rebecca Bradley, vocals
Wes Hamrick, piano
Jeff Rupert, sax

Saturday, 10/2/2010

6:30 pm - 9:30 pm
Wes Hamrick, piano

9:30 pm - 1:00 am
Bohemian After Dark in the Bosendorfer Lounge, featuring
Don Black, saxophones
Kenne Ledford, keyboard
Mark Kiser, drums

Sunday, 10/3/2010

10:30 am - 2:30 am
Jazz Brunch, featuring
Wes Hamrick, piano

Monday, 10/4/2010

8:00 pm - 11:00 pm
Jazz Jam at the Grand Bohemian, featuring
Don Black, saxophones
Joseph Jevanni, keyboards, as they are joined by many of the area's finest instrumentalists and vocalists